Sole proprietorship for mushroom production and processing
Sole proprietorship for mushroom production and processing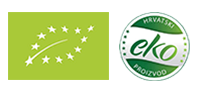 25 years of experience in mushroom production
Long-term love and interest in mushrooms resulted in starting a sole proprietorship for mushroom production and processing Andričić in 1994, which grew into a family business.
Initially, we started cultivating oyster mushrooms, then champignon mushrooms, exotic mushrooms, and today we offer seven types of mushrooms.
By using the latest technology in production, quality compost and control of the production process, top quality and product safety have been achieved, which is certified by certificates for organic cultivation and GLOBAL G.A.P.
Today, we are one of the largest Croatian mushroom producers and we deliver our products to shopping centres and restaurants throughout Croatia.
Certificate:
Why choose us?
Picked today, delivered tomorrow


Quick delivery
Short delivery time of our products to store shelves

The latest technology
We cultivate mushrooms using the latest world technology
Certified products
We possess certificates for the production of high quality products and for organic production

Dry program
We offer dried mushrooms as well: shii-take mushrooms, oyster mushrooms, porcini mushrooms, chanterelles and black trumpets

1300 tons per year
We produce about 1300 tons of mushrooms per year